Categories: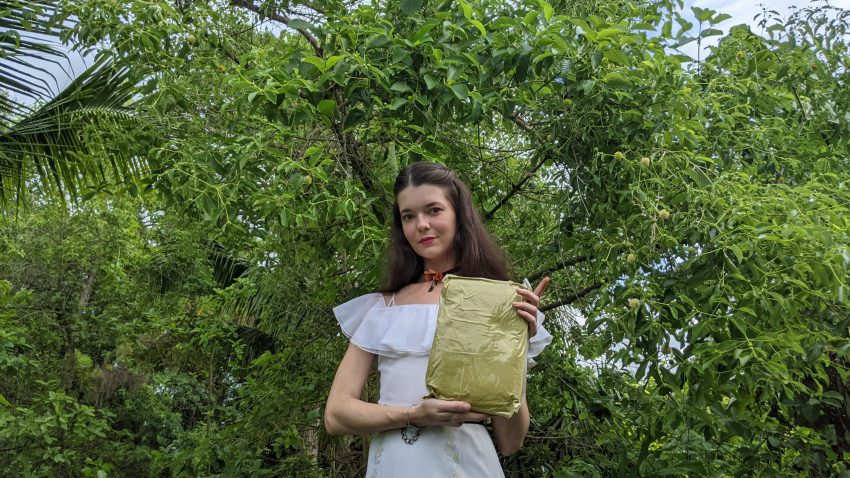 Review KozyKratom Powder & Raw Kratom Leaf
Review KozyKratom Powder & Raw Kratom Leaf – If you are the guy who runs Kozy Kratom your stuff is fantastic. I recently bought your Green Indo Premium Kilo and 15 fresh leaf bundle. The green Indo is phenomenal quality Kratom like I haven't had in ages. The fresh Kratom leaf was FAR more potent than I expected as well. I chewed 2 leaves and it laid me completely out after a long work week. I took the green Indo after waking up and it has me feeling warm and fuzzy and energetic all over, love it. I'm absolutely blown away at how potent this stuff is.
I had a regular Kratom vendor for around the first 3 years I took it. The vendor was Kraydo and his Green Asia was absolute fire. I could take a teaspoon morning, noon, and night and it would wire me to the gills, put me in a great mood, and relieve pain as well. Basically all the things you need when you are middle aged and working hard. Then all the sudden one day I ordered a Kilo and it wasn't the same stuff. He either switched sources or substituted something else and I could immediately tell by the taste and smell. Since then I have yet to find green Kratom of that potency until I got yours. I really appreciate for being a great vendor and your work in Kratom advocacy.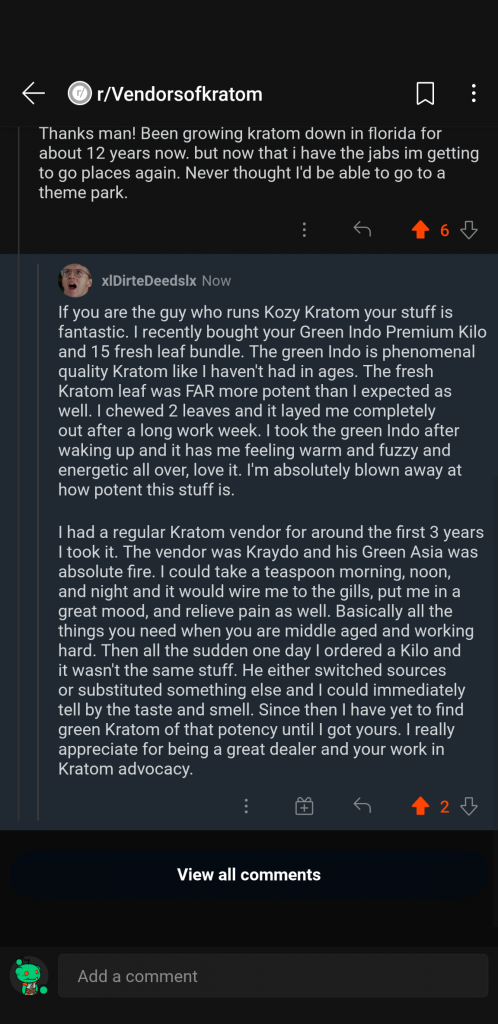 Categories:
Reddit review of Kratomleaf.us
Reddit review of Kratomleaf.us – "Y'all need to grab some of their fresh raw leaf! It's great quality and one of the very very few vendors to offer American grown mature fresh leaf."…" 😁 I've gotten a ton of orders from you guys. Leaf, powder, the hand made jewelry. All that and I support what you guys are doing 1000%." – Kratom541
Where does the money from your order go to?
We are a small self funded American Kratom nursery. Our team does not take payment for our work. Everything we make goes back into the nursery, Documenting kratom, Our kratom social media platform Kratom Watchdog, Our kratom avatar chat Kynto, and our other kratom advocacy projects.'
Kratom Watchdog Android & IOS
Have you heard of the Kratom Watchdog app? Kratom Watchdog is a kratom social network built from the ground up by one of the founding member of the non-profit American Kratom Association (AKA). A booming social community with a focus on kratom advocacy. Kratom Watchdog is the oldest kratom social media platform online. With over 400 videos and over 200,000 photo's from our own kratom Nursery. And 7,000 members we have a very strong growers community that are always willing to help. Kratom Watchdog is available on Android, IOS, and at kratomwatchdog.com. We are a small self funded development studio. If you would like to donate to the development of the platform we would appreciate it. Thank you for your continued support.