Categories:
Take your cutting and place it inside of a 1 gallon jug of rain or pond water. DO NOT USE regular store water or water from the tap.
For more information on unrooted kratom cuttings. Check out our WIKI guide.
Rooting
Typically takes up to around 3 weeks for the cuttings to begin to root.
Watering
Add 1 gallon of rain or pond water to your gallon jug. DO NOT USE regular store water or water from the tap. There are chemicals that will kill the plants. Check your water levels once a week. Replace any water that has evaporated from the jug.
Cuttings
You can add as many cuttings to the gallon jug that will hold at the top. However we recommend only a few per gallon. As this will make it easier to inspect and remove your cuttings without damaging any roots on the other cuttings. Roots are quite fragile and will come off easily. If your cuttings do not touch the bottom on the gallon that is fine. You only need 1/3 of the cutting to be above water. Anywhere that the water touches, roots will develop over time.
Lighting Options
Artificial lighting methods allow for quicker rooting. However a South facing window will suffice.
Repotting
Once your cuttings establish roots, you will want to move them to a 3inch pot. Plant the entire pod and rootball in the new pot (potting soil works best). Here are some videos to help you.
Roots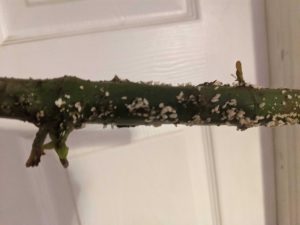 While examining your cutting you will notice that anywhere the water is touching. Any wooded growth will turn into green new growth. After a while in the water it will develop white little bumps. These are roots. They will turn into little white worms. We recommend letting the roots gain a bit of length before placing them in soil.
Note from the grower
Your unrooted cuttings have already been cut back to the freshest node, and covered in rooting hormone.
While in the water jug. The leaf on the cuttings will look droopy. This is normal. This is due the water evaporating.