Kratom Keychain Pair Encased – USA Grown
Ever wish you could carry a little bit of kratom wherever you go?
We select our finest leaf specimens from our kratom trees grown in the United States to display in a keychain you cant take with you on your life's journey. Each individual keychains are completely unique. Our leaves are preserved and sealed for longevity and quality.
20 in stock
Kratom Keychain Pair Encased – USA Grown
Our American Kratom Keychain Pair is for you and your partner to take the same leaf where ever you might go. Each leaf is hand selected for a artistic expericnce like no other. Indulge yourself in a kratom experience in a unique katom for just the two of you . Your purchase will help support American Kratom by preserving the leaf in you hands.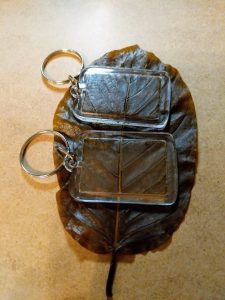 NFC Project – Help Document US Kratom (Free NFC)
The NFC Project – Our goal is to merge tech with kratom to document every single aspect of these amazing trees. We are happy to announce our kratom documentation program the "NFC Project". This projects is a step forward in providing kratom growing information to a entire community.
On the #kratomAPP Kratom Watchdog we are working to document our kratom nursery. We upload every single interaction from our staff has with our American kratom nursery.  Tracking how much & how often we water or fertilize. As well as recording up to the minute weather conditions using weather API's.  When working with the nursery, staff will also take photos or video with the plants. Collected information is uploaded to the corresponding trees specific profile page on the Kratom Watchdog app. Organic American Kratom Leaf is available here for purchase.

3D Drone Mapping American Kratom Nursery's
Taking to the sky! Utilizing drones to document American kratom nursery's from a different angle.  We are using the drones to 3D map our kratom nursery. Applying these 3D models into our Kratom Video Game for the Kratom Watchdog app. Our goal is to map out our entire nursery and insert the nursery into the game world for users to interact with these trees. We will also be creating and implementing drone swarming API's to film and record multiple trees using multiple drones at the same time.
We will be opening up our tools and software to allow other nurseries and growers to map out their kratom nursery. Interested in having us out to document your nursery? Contact us at kozykratom@gmail.com or contact us on the Kratom Watchdog app.
The #KratomAPP
Join us on our #kratomAPP on KratomWatchDog We are a Kratom social network built from the ground up by one of the founding member of the non-profit American Kratom Association (AKA). A booming social community with a focus on kratom advocacy. You can also find us on our Facebook Group Kratom The Tree or email us at kozykratom@gmail.com We are more than happy to talk with you anytime, and share our experience. Organic American Kratom Leaf is available here for purchase.