Full Spectrum CBD Capsules
Enjoy the benefits of hemp extract with the convenience of a capsule. Each capsule contains a pre-portioned dose of full-spectrum hemp extract and MCT oil. Full Spectrum CBD Capsules are kosher, vegan, gluten-free and contain 0.3% or less THC.
Recommended Use: Full Spectrum CBD Capsules can be used to naturally support the Endocannabinoid System. Due to DSHEA guidelines, we cannot state the specific conditions it may affect. However, some users have self-reported elevated mood, decreased stress, improved sleep, decreased inflammation and better pain management when taking this supplement.
Other Ingredients: Medium Chain Triglyceride (MCT) Oil, HPMC.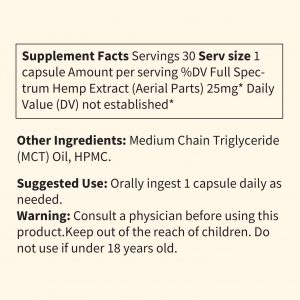 Who is noteCBD?
noteCBD creates all natural, full spectrum whole hemp products that uses cannabinoids to engage the Endocannabinoid System and make the body work better. We are engaged with the growing number of people who want to live healthy lifestyle and be educated on the products they use. We are free thinkers and interested in proactively enriching lives with high quality, whole hemp products.
What Is CBD?
CBD, or Cannabidiol, is one of the most prominent cannabinoids found in the cannabis plant. CBD interacts with our Endocannabinoid System (ECS), which works to regulate the body's immune and central nervous systems to establish equilibrium, or homeostasis, in our body.
Optimizing our ECS is key to establishing and maintaining human health.
Note CBD produces wellness products containing the purest, full spectrum form of phytocannabinoid-rich whole plant hemp oil, to help your body come into hemostasis and experience self-healing, longevity and wellness.
Unlike marijuana which is rich in THC, our product is made of hemp which gives you all the health benefits of cannabis without the "high."
noteCBD has less than .3% THC in any of our wellness products. Now that the 2018 Farm Bill has officially removed hemp and hemp-derived CBD from the Controlled Substances Act, making it fully federally legal for the first time in over 40 years.
Who Can Bennifit From Full Spectrum CBD Capsules?
Virtually every mammal, that has a endocannabinoid system, can benefit from CBD. We are engaged with a growing number of people who want to live a healthy lifestyle and be educated on the products they use. Our natural, full-spectrum CBD oil is safe to use for human and pet consumption, as per the suggested use instructions on our packaging. Learn More
How Does CBD Tinctures Work?
CBD interacts with CB2 receptors within the Endocannabinoid System, primarily found in our gut, liver, heart, kidneys, bones, blood cells and vessels, lymph cells and reproductive organs. When CBD enters the body, it reacts with irritated, inflamed and depleted receptor sites to re-establish equilibrium.
Benefits of Note CBD:
Reduction in stress and anxiety
Feeling of calm and focus
Anti-inflammatory properties
Relief from pain
The Note CBD Guaranty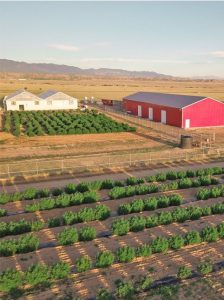 Our hemp plants are grown in Colorado, in the foothills of the Rocky Mountains, with the utmost attention paid to holistic operating procedures. We are a fully integrated, farm-to-mailbox operation, which allows us to control the entire process of getting you the best-quality, purest, full-spectrum CBD products available in the market. We never use any pesticides, herbicides, or fungicides, and even create our own organic fertilizer, that helps balance the local ecosystem.
Learn More
Are the cuttings Organic?
The mature trees are very resistant to pests, and as a result haven't required the application of any chemicals. The trees are fertilized with a fish emulsion every 3 – 4 months
How are cuttings packaged
The cutting is shipped inside of a soda container that has been split in half. This method is effective at preventing shipping damage
Do you guarantee arrival 
Yes! Every plant order is backed up with a reship guarantee. We also take a picture of your plant or cutting before shipping, and email it to you!
How long does Kratom take to root
It can take up to 3 – 4 weeks, even in optimal conditions
How often do you ship the cuttings
We ship M – W for our cuttings and plant selection. We want to ensure that your plant doesn't sit around without you.
Do you apply rooting hormone to unrooted cuttings
Yes!